Hello Ninjas!
In preparation for St. Patrick's day, I decided I'd show you a manicure I did that reminded me of a field of clover. I ended up wearing Bevin from Zoya's awesome Spring 2012 collection, Tru.
Zoya
describes it as "... a dusty, medium sage green with teal tones and a creamy opaque finish." I basically agree though I use less words, I just call this a sage green. I love sage! I love cooking with it, eating it, and just looking at it so I was thrilled to have this color on my nails. Bevin worked wonderfully with my skin tone and was opaque in two easy coats.
The color of Bevin also reminds me of the really pretty pale green succulent plants they have in a garden nearby:
Can you tell I have as thing for plants?
Anyways, After two days of wearing the wonderful Bevin by itself, I added the beautiful Mylar fleck topcoat, Opal, from Zoya's Fleck Effect collection.
Zoya
describes Opal as "...a sheer green base with reflective Mylar flakes that shift from bright green to blue." Which is pretty spot on. I loved this combination! I also couldn't take my eyes off my nails when they were in the sunlight, the shift from green to blue is stunning!
These combined colors are what reminded me of a field of clover: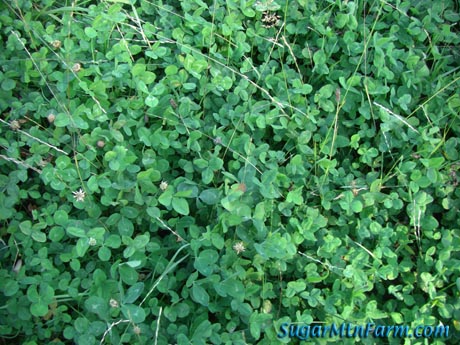 Products in this post were provided by the Zoya PR team for honest review.